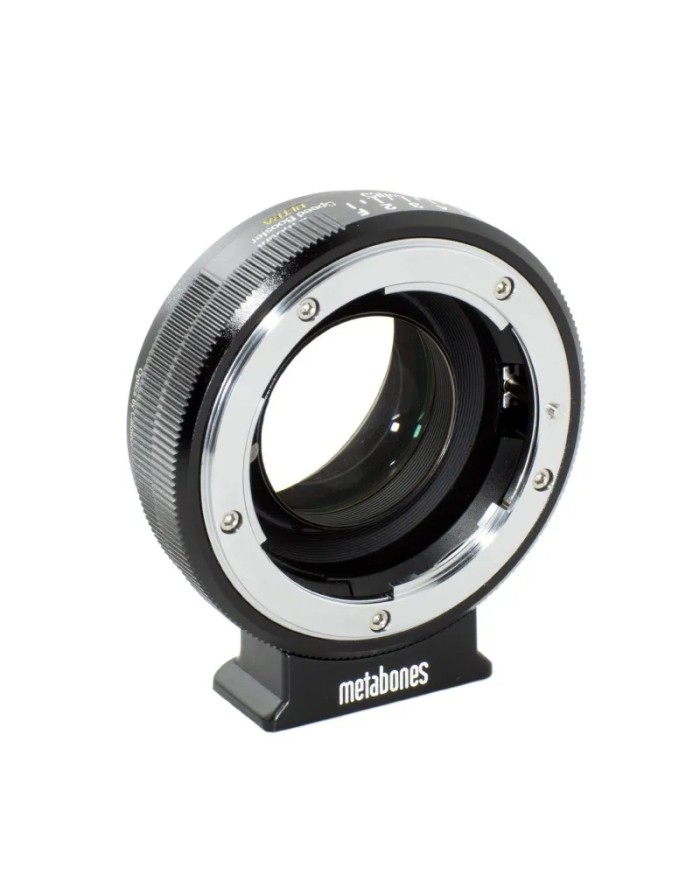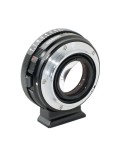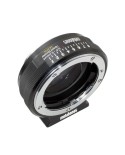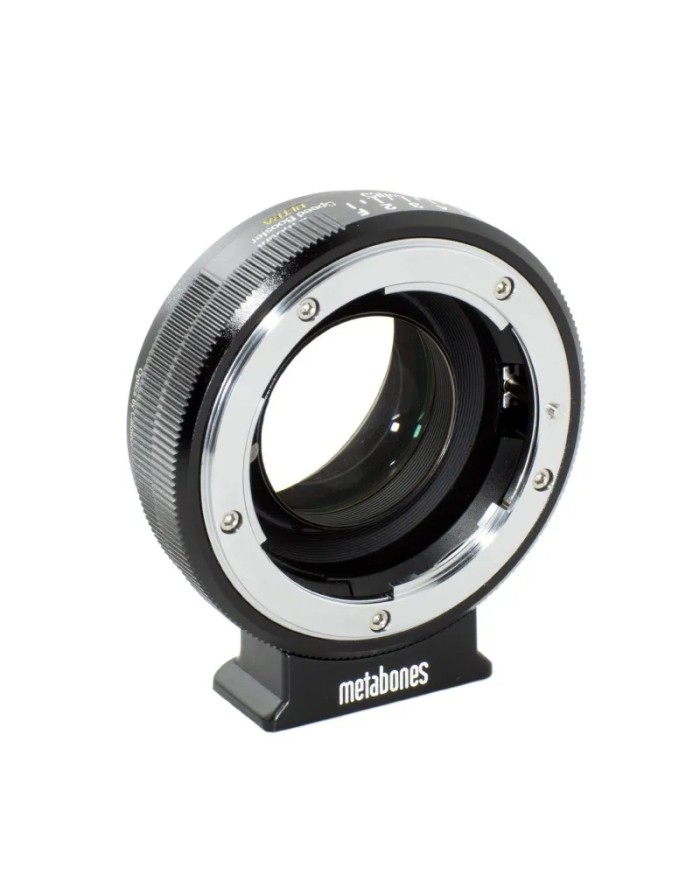 METABONES NIKON G A E-MOUNT
LEAN CON ATENCION LA COMPATIBILIDAD
Compatible with both Nikkor G lens &  F lens (include non-AI & AI lens mounts).
Advanced 5-element/4-group optical design incorporating ultra-high index tanatalum-based optical glass by Caldwell Photographic in the USA (patent pending).
Increase maximum aperture by 1 stop.
Increase MTF.
Makes lens 0.71x wider.
The tripod foot is detachable and compatible with Arca Swiss, Markins, Photo Clam ball heads.
Note: This Speed Booster ULTRA is NOT fully compatible with full-frame Sony A7, A7R and A7S. When the Speed Booster® are used with Sony A7, A7R or A7S the camera is required to be used in the "APS-C Size Capture" mode.
Tips: Before mounting your lens to the adaptor, please make sure that the f-stop of aperture ring on the adaptor is turned to "7" (i.e. mounting your lens to the adaptor while only the aperture ring in the adaptor is full closed.).
Remark: This mount is manual aperture control. It does NOT support electronic aperture control. 
Disclaimer: we are NOT licensed, approved or endorsed by Sony or Nikon
---
List of incompatible lenses
Nikkor 2.1cm f4
20/2.8 AI-S
Description

Speed Booster ULTRA
Sharper corners, less distortion, reduced vignetting 
New optical design:  advanced 5-element/4-group optical design incorporating ultra-high index tanatalum-based optical glass to achieve extraordinary optical performance with improved corner sharpness, distortion and reduced vignetting.
Like the revolutionary original Metabones Speed Booster announced in January 2013, the Speed Booster ULTRA has a magnification of 0.71x, and so it effectively reduces the crop factor of mirrorless cameras with DX-sized sensors, such as Sony E-mount and Fuji X-mount cameras, from 1.5x to 1.07x.  However, the new ULTRA design makes very effective use of exotic materials at the furthest limit of glassmaking technology, and as a result is well corrected for use with virtually all fullframe SLR lenses regardless of exit pupil distance. Thus, the Speed Booster ULTRA performs extremely well with professional-grade f/2.8 zoom lenses such as the 24-70mm f/2.8 and 70-200mm f/2.8 zooms by Canon and Nikon to produce 17-50mm f/2.0 and 50-142mm f/2.0 high-speed zooms, respectively.  Similarly, high-speed fixed focal length lenses such as a 50mm f/1.2 will be transformed into a 35.5mm f/0.9 lens with excellent contrast and resolution from the center all the way to the edges of the image.
No hay reseñas de clientes en este momento.